Green Building Services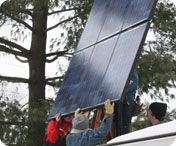 Green building (also known as green construction or sustainable building) refers to a process that is environmentally responsible and resource-efficient throughout a building's life-cycle, from design to demolition. Our goal is to enhance the durability, economy, and comfort of your home using (and re-using) local resources and higher-efficiency products.
Although new technologies are constantly being developed to complement current practices in creating greener structures, our shared goal is to reduce the overall impact on human health and the natural environment by:
Efficiently using energy, water, and other resources
Protecting occupant health and improving employee productivity
Reducing waste, pollution and environmental degradation
Let us help you design and build a strong, quiet, energy-efficient home to fit your lifestyle.
Live Green, Live Smart Builders helped create one of the world's greenest homes, which was awarded by the US Green Building Council, its first LEED for Homes Platinum Certification. What can we do for you? Call us today at (612) 715-9384. We make it easy to be green!
Our Services